How to Update Facebook on iPhone?
One of the main goals of Facebook developers is to reach as many users as possible. While this App has its forte in the Android community, they are currently Apple Smartphones; the main competition for Android OS devices. So it's very common for thousands of people to wonder how to update Facebook on an iPhone. After all, there are millions of people who, all over the world; use this social network on their iOS computers.
If you are one of these doubtful people, then don't worry; that in this post we will show you two ways to keep Facebook updated to its latest version available at all times. And in addition, in the end we will clarify some important aspects that you must take into account regarding both methods.
Steps to Update Facebook on an iPhone In a Way
The intuitive interface of Apple's smart devices are a great advantage when updating an App. It doesn't matter if you're using an iPhone, iPad or iPod Touch; in any of them it is very easy to learn how to update Facebook manually. Following, for this; the steps officially defaulted by your operating system (iOS). If you do not know these steps and are afraid of unadjusting something, then rest assured; we then show them to you one at a time.
Open the App Store. The first thing will be to open the Apple Store on your iPhone, iPad, or iPod Touch. If you don't know, the store icon is an"A"inside a circle with a blue background.
Go to Updates. At the bottom of the store you'll see five options. The fourth or fifth (counting from left to right) is usually Updates.
Search for Facebook. You will now be sent to the Available Updates screen. At this point, all apps and games on your device that have a pending update appear. Among them, look for the Facebook App.
Tap Update. Once you find the FacebookApp, you'll notice that on your right you have an Updatebutton. Press that button to start downloading the new version of Facebook.
Tap Update All (optional). With respect to the previous step, you can optionally choose to update all apps and games that appear to you in the list of pending updates. To do this, press the Update All button at the top right of the screen.
Wait for the download to finish. After you use the Update (Facebook) button, or Update All; all you can do is wait for the download bar to fill up. After which you will automatically start the installation of the new version.
Restart Facebook. If you had the Facebook App open during the update process, we advise you to close it and open it again to ensure that the changes are applied correctly. Similarly, it should be said that at this point you can now close the App Store.
Steps to Update Facebook on an iPhone Automatically
Thinking about making your life easier, we've listed the five steps you need to take to update Facebook on an iPhone automatically. Once you do them, you can completely forget about updating Facebook manually. Since from that moment on all your Apps and games, not just Facebook; will be updated automatically each time they receive a new version.
Open Settings. This is the gear symbol that appears on the main screen of your Smartphone.
Select iTunes and App Store. Go to the Settings tab and enter the iTunes and App Storeoption.
Locate the Automatic Downloadssection. Once inside, you'll find an Automatic Downloads section with several options available.
Activate the Updatesbutton. Among the four options in this section, look at the Updates section and activate the button next to it. The button is on to the right and disabled to the left.
Activate the Use mobile data button (optional). In the next section you will find another activable button. This is used to allow (or prohibit) automatic updates from being managed using mobile data when the computer is not connected to a Wi-Fi network.
Important things to keep in the gutter
In both the manual update method and the activation of automatic updates, some unforeseen events may arise or doubts arise; for your peace of mind, right now we're going to clear you up.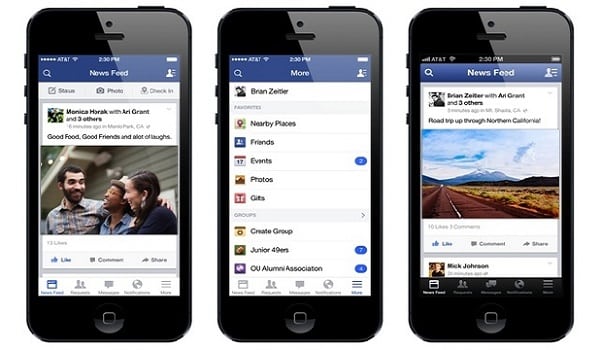 The first thing you may notice is that the Facebook App doesn't appear in the Pending Updates list. If this is the case, you may already have the Automatic Updatesoption turned on, so Facebook must have been updating itself and will be in its latest version.
Another possible drawback is that an Internet error or disconnectionoccurs while you are managing a new update. In these cases, usually; the process is permanently interrupted, being unable to complete.
The solution to the above scenario is to reinstall Facebook. To do this, you need to go to the App Store and search for Facebook to uninstall it. When the uninstallation is complete, repurchase and install the App in the same store. Note that when you perform this new installation, Facebook will be downloaded to its latest version.
As for automation to update Facebook on an iPhone, you should know that we don't highly recommend the Use Mobile Dataoption. Apps like Facebook, Messenger and most video games; are usually very heavy and the wear and tear of your data package could seriously affect your pocket.
On the other hand, allow your iPhone to download updates automatically; can be harmful. For example, imagine that a new version of Facebook is recognized by the device and automatically starts downloading it; but this happens just when you're on a business video call and the fluidity of it is reduced.