How to Update Facebook Messenger on Android?
Even though WhatsApp has been owned by Mark Zuckerberg since 2014, Facebook designed and launced its own instant messaging app. What few know is that what we now know as Facebook Messenger,starting more than a decade ago under the name Facebook Chat. It is ironic that over the last few years, WhatsApp gradually begins to be displaced by another messaging app that shares its own owner.
But, now that more and more users are encouraged to try it out; you need to learn how to update Facebook Messenger on Android. Otherwise, they would miss the constant innovations that developers present in each new version. Moreover, being that information is now seen as an extremely valuable resource; Messenger updates are focused on protecting your users' data and conversations from potential cyber attacks.
Steps to update Facebook Messenger on Android
The steps to update Facebook Messenger on an Android OS device are very simple. Best of all, they serve equally for any other App we want to update. All you have to do is follow the instructions to the letter and read the aspects to keep in mind that we mentioned at the end.
Log in to the Google Play Store. It is the app with the icon of a shop bag stamped with a triangle of colors.
Once inside the Google app store,focus on the top of the screen; on the left side of the search bar. There you will find the discreet Menubutton,represented by three black lines arranged horizontally on top of each other.
Pressing that button will display a menu with various options. Among the first ones you will find the Apps and games,from where you have to click on My Apps and Games.
Then a new screen will open where they are displayed, going down a little bit to the Updates; all apps on your Android device that have a new version available to update.
In the list of apps that appear to you, look for Messenger with the word "Facebook" below. Tap on its box and the corresponding app page will open in the Google Play Store.
You'll find two options to choose from: Uninstall and Update. Obviously, tap Update.
Now it's just a matter of waiting for the update to install and, if possible; restart the device to ensure that the changes to the new version are applied.
Automate Facebook Messenger updates on Android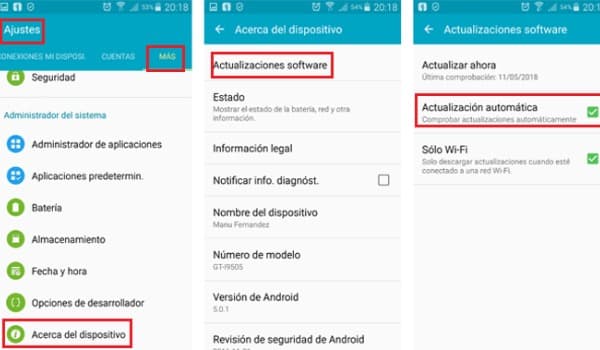 Through Google Play, Android devices have an option that allows us to configure automatic updates for all the Apps that we have installed. This, of course; it also serves to automate messenger updates is any Smartphone or Tablet with Android OS. The steps to configure this option are not difficult, and are as follows:
Open Google Play Store.
Displays the Options Menu. Above was a figure of how to do this.
Select the option to Configuration at the end of the menu.
Find and tap update apps automatically.
A pop-up window will open from which you can choose between Automatically update apps at all times or Update apps automatically over Wi-Fi only. It is best to choose the second option to avoid losing your entire mobile data package fast (Facebook Messenger updates are usually somewhat heavy, up to 50Mb).
Things to consider
While it's true that updating Facebook Messenger on Android is extremely simple, don't forget that any computer process can cause errors or bugs that obstruct certain functions.
If in the Updatessection, Messenger (with the word"Facebook"below) does not appear in the list; it's because it's already updated to its latest available version.
It is important that the Messenger you are updating is the correctone. The best way to ensure this is by verifying that its developer is Facebook. Well, other developers, such as Google LLC; it also has messaging apps under the same name.
You can also get to the Messenger update screen by typing"Facebook Messenger"in the Play Store search engine. Then you enter the first of the results that appear to you and you will be right where you get the Uninstall and Updatebuttons. In case the App is already up to date, the second button will say"Open".
The above point is important to clarify because of the following: during the upgrade, an error may be generated that will make it impossible to complete the process correctly. To fix these errors, go to the aforementioned screen and tap uninstall. Then open that reinstall Facebook Messenger; with the advantage that the App will be installed in its latest version.
Update Facebook Messenger on Android using an APK
As we've seen so far, learning how to update Facebook Messenger on Android is very easy. But this does not mean that the process is foolproof, and in very few cases errors can occur during the update process. Typically, these errors override the ability to update an App in normal ways; as we've taught so far.
In this sense, an unusual but 100% effective way to update Messenger on an Android computer; would be using APK files. The steps to perform this method are as follows:
Enter APKMirror.com. Do not worry about the security of this website as, as always; we make sure we share links only from platforms would be and secure.
In the top right you will see the search bar of the web. Type Facebook Messenger and tap on the magnifying glass.
On the left side of the screen you will see the list of results. Select the first one,as that's the APK of Facebook Messenger with the most up-to-date version.
If you downloaded the file from a computer, pass it to your Android device via email or USB cable. Be sure to save it to your downloads folder.
Before proceeding, go to the Play Store, search for Facebook Messenger and tap uninstall.
Open the APK file and follow the steps to install the latest version of Facebook Messenger on your Android. You may be asked for a permission to open a file with unknown sources (which does not come from an App recognized as the Play Store).
Performing this update method is not yet very popular. But there are more and more Android users who are attracted to it. Especially when it comes to updating Apps without data or Wi-Fi connection. Since the APK file can be downloaded via a computer connected to the Internet via Ethernet (non-wireless) ports. Besides that you can download many APK files from many Apps that you want to update or install, because in APKMirror you will not only find Messenger.