How to Download and Install Instagram on a Mobile?
We've already seen the generals regarding how to Install Instagram on a Mobile and a PC. Now, in this text; we're going to focus on showing you the steps you need to take to install Instagram on your Smartphone quickly and easily. After all, this social network is available as a mobile app; continues to grow every day and attract more and more users.
Guide to Download ing and Install Instagram on a Mobile
When it was launched in 2010, Instagram seemed to remain a focused app on iPhones; just like his iPad and iPod Touch siblings. However, two years later Android users could already access Instagram from the Play Store. And for 2016, the Windows Phone Microsoft Store also added Instagram App to its product list.
As a result, right now you'll learn step by step how to download and install Instagram on a Mobile; regardless of whether your operating system is iOS, Android OS, or Windows 10. Earlier, we clarified that the app stores on these three operating systems work quite similarly. So, while we've used Android-based images; the following 5 steps apply equally for everyone.
Five Steps to Install Instagram on Your Mobile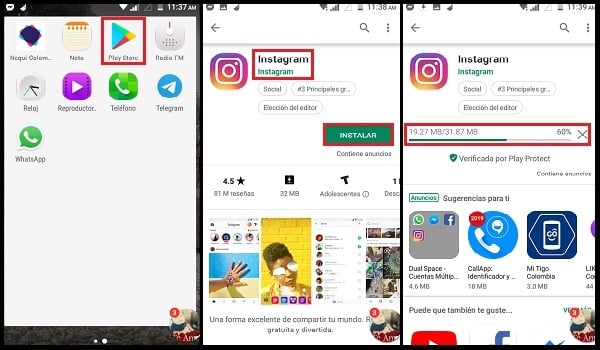 Open your Mobile's app store. As is well known, each operating system has its own app store. If you don't know them, pay attention: The App Store is the store for iPhones, iPads, and iPod Touch. Play Store is the store of Android Smartphones and Tablets. Finally, Microsoft Store is the Windows Phone app store.
Find the Instagram App in the store. All three have a search engine to find what you want more easily. Use the search engine (a white bar usually accompanied by a magnifying glass) to type"Instagram". You won't have finished typing the word when the store itself will show you the Official Instagram option to go directly to its homepage.
Select the Installbutton. On the app's homepage you will find an overview of the app, as well as the ratings and comments that its users have made. However, what you need to pay attention to is the Install button that appears right in the center of the screen. It is possible, depending on the store; this button does not appear until after you press another one called Get or Acquire.
Wait for the process to finish. Actually, the first thing that will happen after you press the Install button; is that the app will start downloading. But don't worry, at the end of the download the store will proceed to install Instagram automatically. During this whole process you can do nothing but wait, making sure that your phone does not lose the connection during the download phase.
Open Instagram. Once the previous process is complete, you'll see two new buttons appear on the Instagram splash page. One for Uninstall and one for Open. Tap Open to verify that the App is working properly.
Important details to consider
The Microsoft Store search bar doesn't usually appear visible until after you tap on the magnifying glass at the bottom of the screen.
Smartphones running Windows 8 and 8.1 are outdated. It is very likely that the Instagram app has errors such as; closing itself suddenly. And that's if you manage to unload it.
Installing Instagram on a Mobile is only possible for those with the following versions: iOS 7 onwards, Android 4.1 onwards, and Windows 10 with possible issues in lower versions.
It is also possible to open Instagram in its web version from the browser of a mobile.
We have another guide where we talk about

Instagram for PC.